Anti-static agent for conductive PVC plastisol compounds with good mechanical performance and possibility for coloring
---
TUBALL™ graphene nanotubes (single wall carbon nanotubes) in the form of TUBALL™ MATRIX 814 concentrate is an industry-friendly form of anti-static additive for PVC plastisol formulations. In contrast to ammonium salts and carbon black, graphene nanotubes enable a full set of properties: stable and permanent conductivity with preserved original colors and mechanical performance.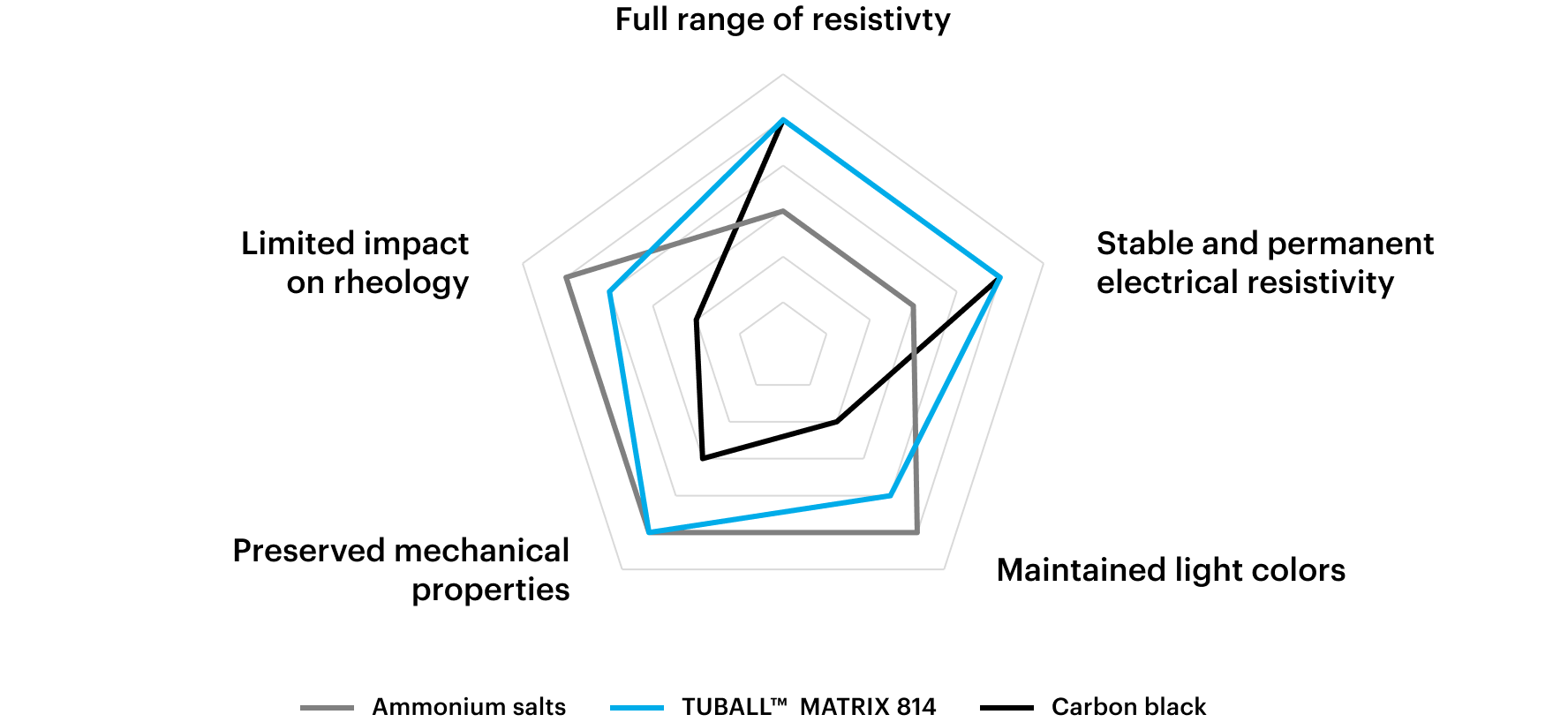 Graphene nanotubes vs carbon black & ammonium salts
Graphene nanotubes unique morphology allows them to create a dense conductive network inside thermoplastic compounds at ultra-low loading rates – starting from just 0.01 wt.% in the total compound. That unprecedentedly low concentration has minimal impact on the original color of compound.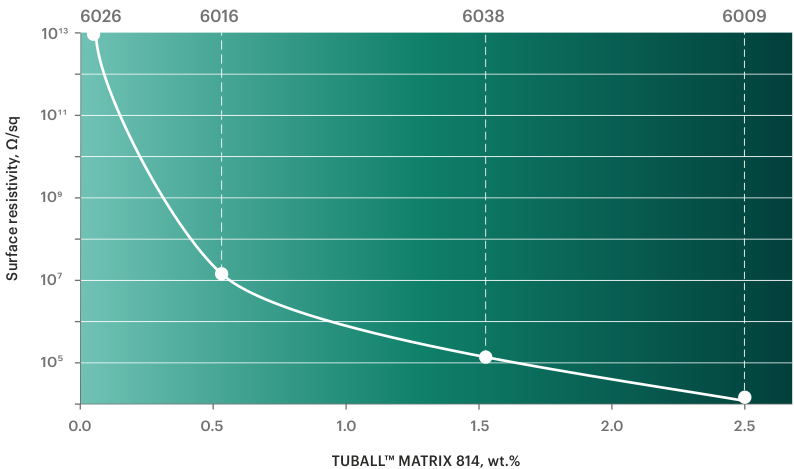 The nanotube network inside the material serves as a reinforcing skeleton and contributes to abrasion resistance.
Maintained abrasion resistance index

OCSiAl internal PVC plastisol formulation. ASTM D5963-04
TUBALL™ MATRIX 814 antistatic additive for PVC plastisol demonstrates the following benefits:
Stable and permanent conductivity
Preserved original color of compound
Retained or even improved mechanical performance
Versatile application technologies
Clean production without the dust usually associated with carbon black
Flexibility in compound formulation thanks to low dosage of nanotubes
User-friendly form of concentrate with no additional equipment requir
PVS plastisols enhanced with TUBALL™ graphene nanotubes have found wide application in the mining, oil & gas, textile, and other industries.
---
Related products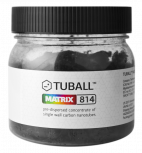 Tuball
Conductive additive for PVC plastisol
Application
Thermoplastics
Carrier Media
Epoxidized soybean oil and polymeric stabilizing agent
MATRIX 814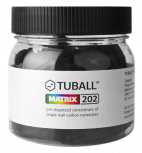 Tuball
Non-phthalate plasticizer based conductive additive for PU, PVC plastisol and phenolic solvent-free systems
Application
Resins & Composites
Materials
Phenolic, Polyurethane
Carrier Media
Plasticizer – fatty carboxylic acid ester derivative
MATRIX 202
---
Contact us to discuss your project specifications or to request a TUBALL™ MATRIX sample

---