TUBALL™ graphene nanotubes (single wall carbon nanotubes) provide superior electrical conductivity to polyethylene rotomolded parts. Graphene nanotubes' unique morphology allows them to create a dense conductive network inside polyethylene rotomolded parts at ultralow loading rates—starting from just 0.01 wt.% in the total compound. This unprecedentedly low concentration has minimal impact on the mechanical properties or the original color of the material.
TUBALL™ graphene nanotubes are applied via easy-to-use TUBALL™ MATRIX, which is a line of additives based on polymer carriers and pre-dispersed TUBALL™ graphene nanotubes, or TUBALL™ COAT_E suspensions.

TUBALL™ anti-static additive for polyethylene rotomolded parts demonstrates the following benefits:
Permanent, stable anti-static properties without "hot spots"
Maintained or even increased mechanical properties
Possibility of color solutions*
Stable performance reducing the number of out-of-spec parts
*Depending on the formulation, processing, and products.

Maintained mechanical properties
In contrast to conventional additives, graphene nanotubes make it possible to preserve the mechanical properties and light colors, and have a minimal impact on the viscosity and density, of the host material.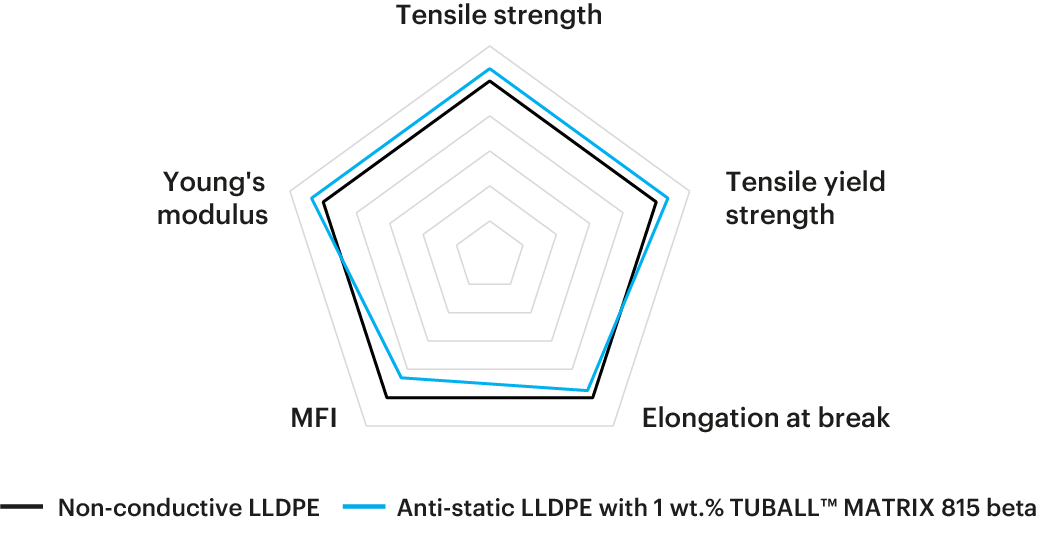 OCSiAl internal results.

EASY TO APPLY AT REQUIRED APPROACH
TUBALL™-based products can be processed with standard equipment that is widely used in the thermoplastics industry.