TUBALL™ graphene nanotubes in the form of TUBALL™ MATRIX concentrate is a user-friendly universal conductive additive for epoxy resin formulations. In contrast to traditional ESD additives, such as carbon black, carbon fibers, various conductive polymers and mica, graphene nanotubes guarantee permanent, stable conductivity, and preserve the original color and durability of thermoset compounds.
Color change, RAL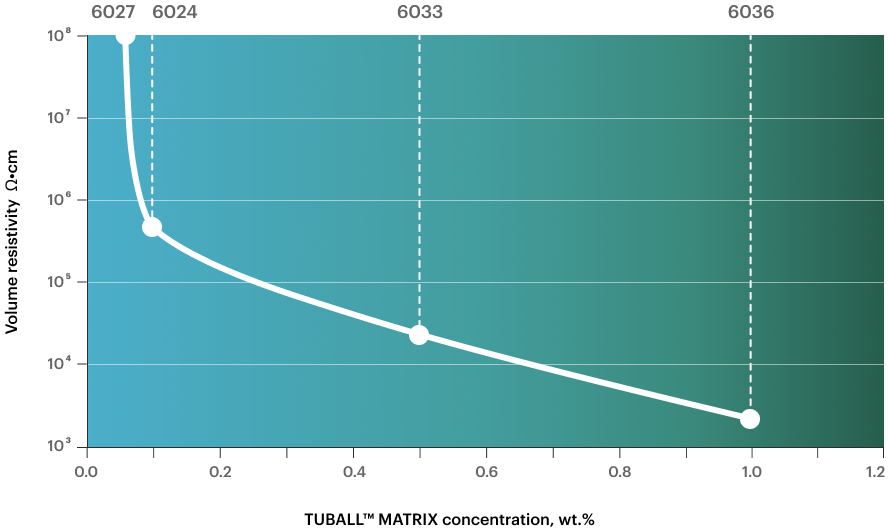 Thanks to their high length-to-diameter ratio, graphene nanotubes are able to form a 3D network and reach the percolation threshold even at ultra-low loadings of concentrate – only 0.1% – that minimize any of the negative impacts typical for standard anti-static masterbatches. This conductive network guarantees uniform volume and surface resistivity without any "hot spots", which are frequently faced by most conventional additives.
Anti-static agents: traditional vs TUBALL™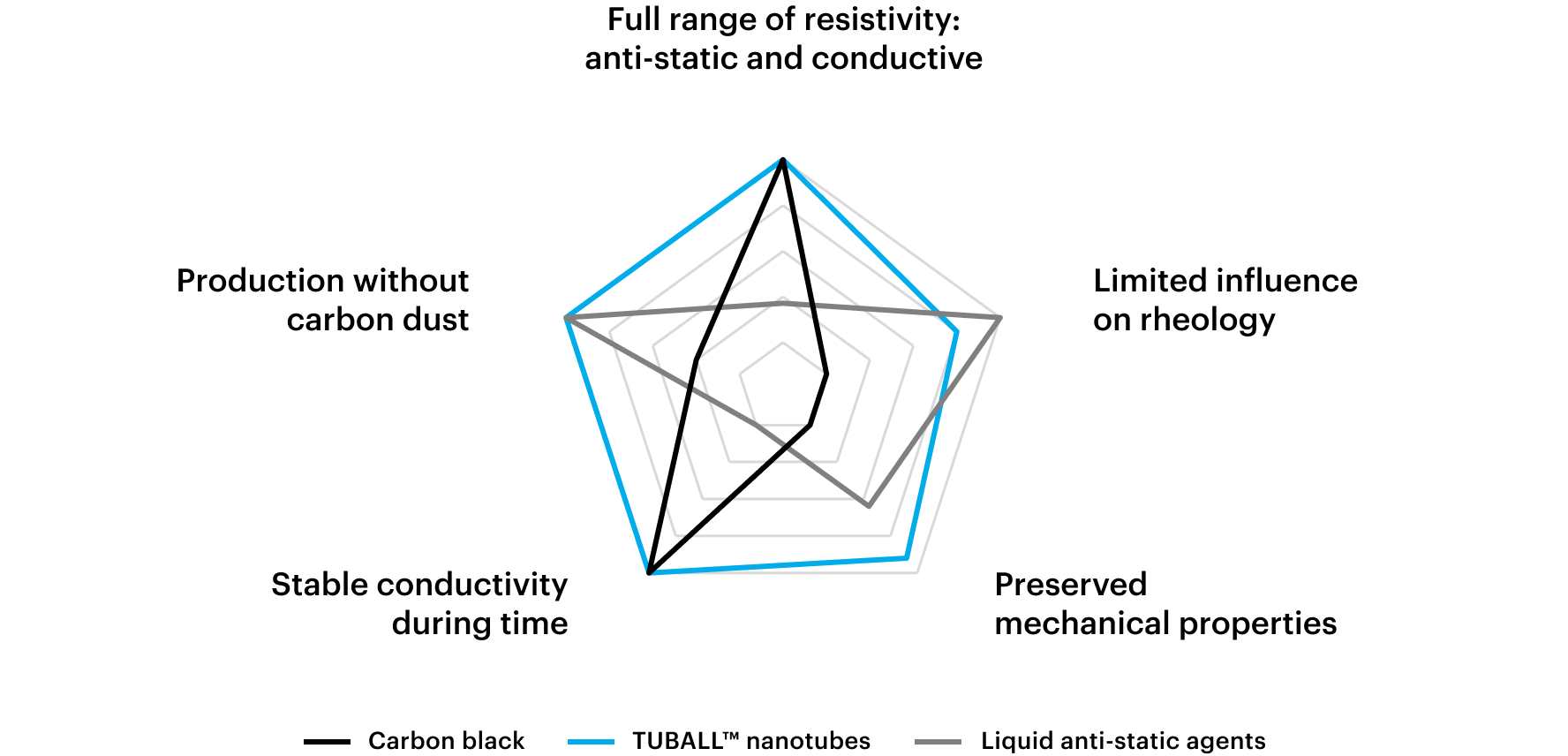 Note. This diagram provides average trends compared with other additives based on OCSiAl data. Product performance may vary depending on product type and formulation.
Industry-friendly TUBALL™ MATRIX concentrate for conductivity in epoxy resins allows users:
To target any required level of conductivity
To guarantee safety with its uniform, permanent conductivity
To expand the color palette of the end products
To prevent loss of durability and to improve abrasion resistance
To adapt easily using standard equipment and formulation
TUBALL™ MATRIX meets key technical requirements
| Parameter | Ammonium compounds | Carbon black | TUBALL™ MATRIX |
| --- | --- | --- | --- |
| Working dosage, wt.% | 0.2–4 | 4–12 | 0.1–0.5 |
| Resistivity range, Ω/sq | 108–1011 | 108–1011 | 104–1011 |
| Influence on mechanical performance | small negative | strong negative | none |
| Influence on rheology | none | strong negative | acceptable |
| Color opportunity | possible | none | possible |
| Application via spray technology | possible | challenging | possible |
| Dust formation during production | none | high | none |
| Resistivity independent of humidity | no | yes | yes |
| Stable resistivity over time | no | yes | yes |
Results for optimized formulation based on OCSiAl data.
Epoxy systems enhanced with graphene nanotubes have found a wide application in the transportation industry, construction and infrastructure, alternative technologies, pharmaceuticals, petrochemical, healthcare, sports equipment, electronics, and cleanrooms.
To meet the specific requirements of different epoxy systems, OCSiAl has developed a line of TUBALL™-based products. Depending on the type of binder and the presence of solvent in formulation one of the following solutions can be selected. Or contact us for any additional information.