TUBALL™ graphene nanotubes are a high-performance and cost-efficient anti-static agent for polyurethane compounds that are able to target a specific level of resistivity, provide stable and permanent anti-static properties, and preserve the mechanical performance of the original compound.

Anti-static agents: traditional vs TUBALL™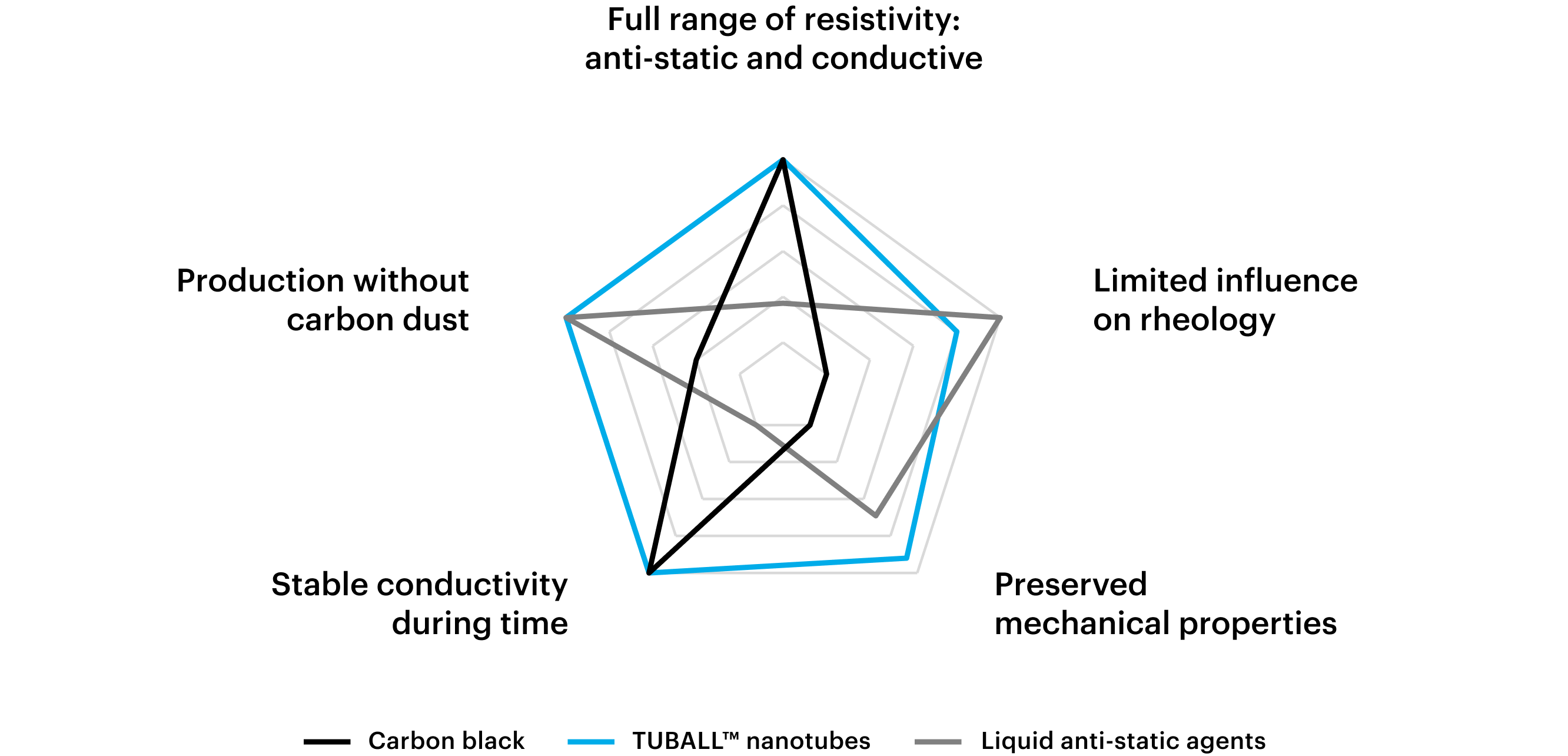 Note. This diagram provides average trends compared with other additives based on OCSiAl data. Product performance may vary depending on product type and formulation.
Graphene nanotubes (also known as single wall carbon nanotubes) demonstrate a number of advantages in comparison with standard anti-static additives. In contrast to carbon black, graphene nanotubes enable conductivity in polyurethane along with preserving hardness and tensile strength. The advantage of nanotubes over ammonium salts is in their permanent electrical conductivity in thermoset compounds.
The overall benefits of graphene nanotubes as an anti-static agent for polyurethane systems are:
Specific level of conductivity can be targeted
Stable, permanent resistivity guaranteed
Beneficial mechanical properties of the original PU compound are preserved
Cost efficiency with the best price-per-property in comparison with analogs
TUBALL™ MATRIX meets key technical requirements
| Parameter | Ammonium compounds | Carbon black | TUBALL™ MATRIX |
| --- | --- | --- | --- |
| Working dosage, wt.% | 0.2–4 | 4–12 | 0.1–0.5 |
| Resistivity range, Ω/sq | 108–1011 | 105–1011 | 104–1011 |
| Influence on mechanical performance | small negative | strong negative | none |
| Influence on rheology | none | strong negative | acceptable |
| Color opportunity | possible | none | possible |
| Application via spray technology | possible | challenging | possible |
| Dust formation during production | none | high | none |
| Resistivity independent of humidity | no | yes | yes |
| Stable resistivity over time | no | yes | yes |
Results for optimized formulation based on OCSiAl data.
The TUBALL™ MATRIX line of concentrates was developed for easy adoption of nanotubes into standard technological process and integration into the original formulation of polyurethane compounds. It consists of black flakes with a paste-like texture and can be diluted into resin using a high-speed mixer, a bead mill or a three-roll mill depending on product type. Nanotube-based suspensions are liquid and can be easily diluted by a stirrer.
OCSiAl has developed various nanotube solutions for hot cast, solvent-free, solvent-based, water-based or latex polyurethane systems. Concentrates and suspensions can be applied to rigid, flexible, foam, or any other type of PU. Polyurethane products enhanced with graphene nanotubes meet the growing demand in agriculture, electronics manufacturing, mining, textile and packaging, oil and gas.
To select the most effective solution, please check more details on products by clicking on a product card below, or contact us for any assistance.
TUBALL™ thermoset polyurethane product line by the target system
— Recommended — Possible
1 TUBALL™ MATRIX 203 and 208 were designed for the same systems and applications. The products have different HSE restrictions depending on local regulations.
2 Contact OCSiAl representatives
3 For 0.1–0.5% TUBALL™ MATRIX, a solvent is limited to working dosages 20–40 wt.%. For other cases, contact OCSiAl representatives.