Graphene nanotubes for anti-static textile coatings: ESD safety in compliance with international standards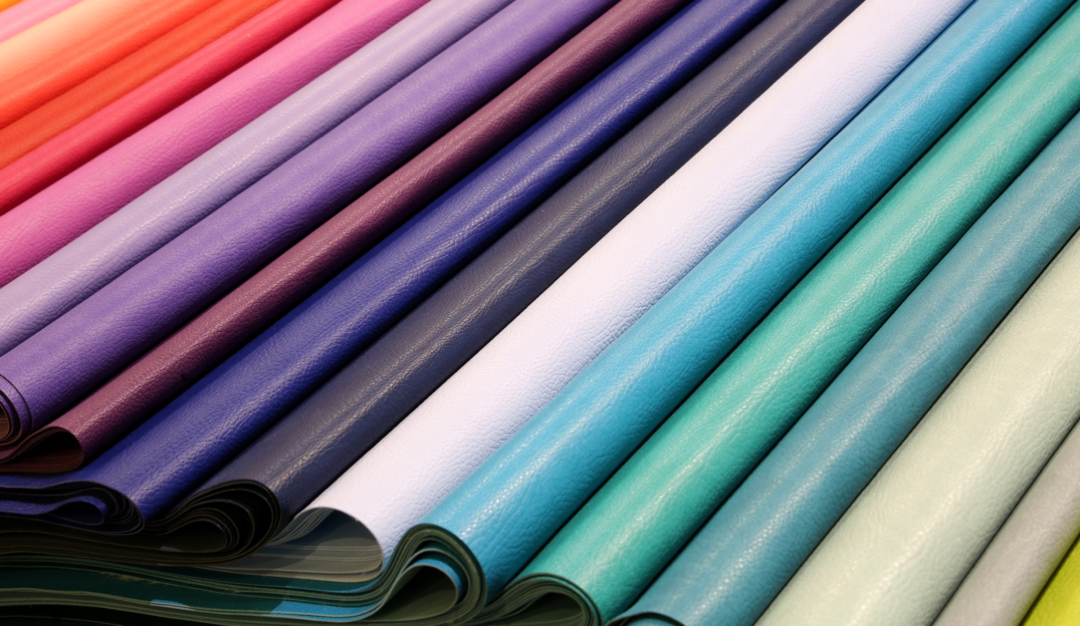 ---
TUBALL™ nanotubes are a unique anti-static agent that provides electrical conductivity at low dosages not achievable with any standard conductive additive. Textiles with improved electrical conductivity are used to avoid the hazards of electrostatic discharge (ESD) and can achieve the anti-static performance required by safety regulations.
TUBALL™ graphene nanotubes are available in various forms depending on the industrial application: the easy-to-use additive TUBALL™ MATRIX, which is a line concentrates based on polymer carriers and pre-dispersed TUBALL™ graphene nanotubes, and TUBALL™-based liquid-phase suspensions with properly dispersed and stabilized graphene nanotubes.
---
TUBALL™ graphene nanotubes: Good performance on all key parameters

In contrast to other conductive agents, TUBALL™ graphene nanotubes are a versatile conductive agent offering good performance on all key parameters.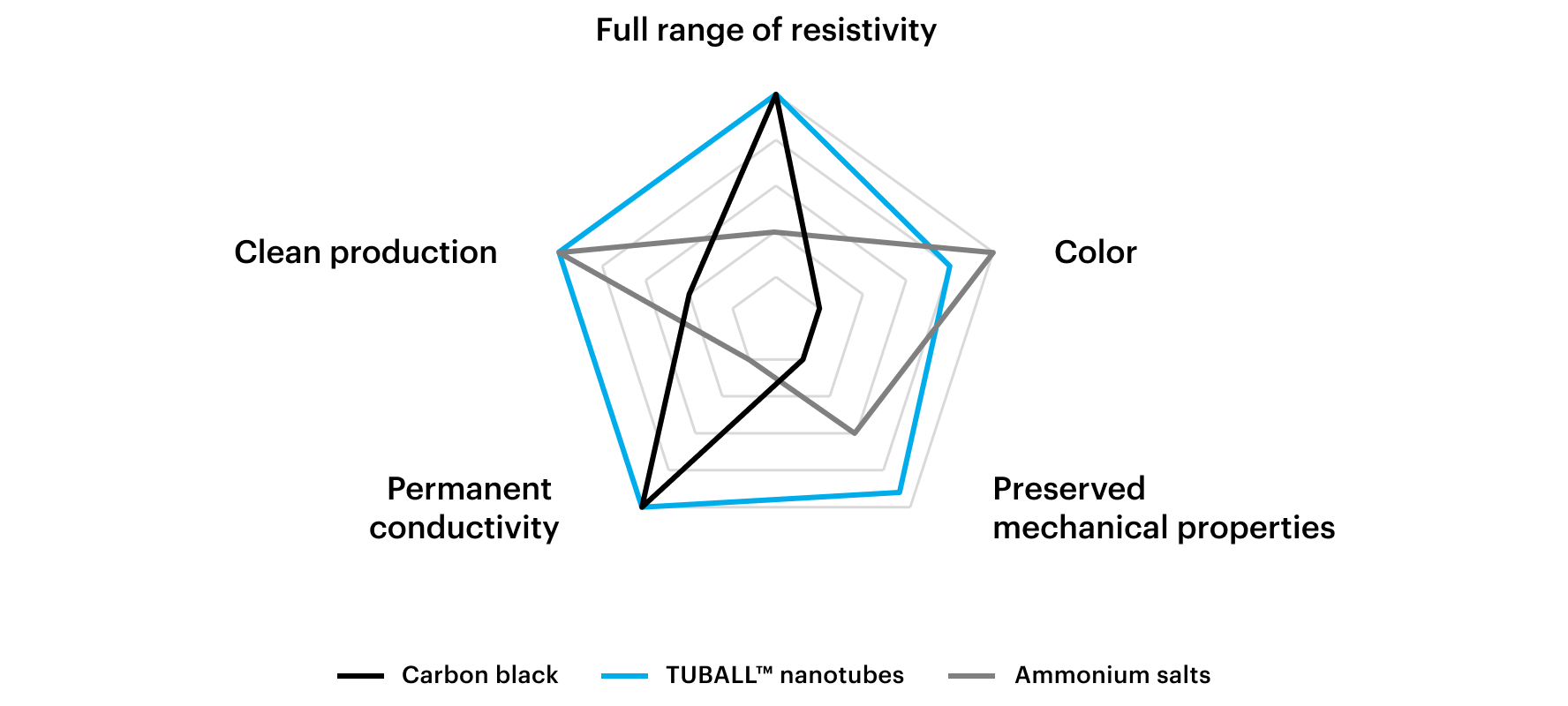 Note: this diagram provides average trends compared with other additives, based on OCSiAl data. Product performance may vary depending on product type and formulation.
| Parameter | Ammonium compounds | Carbon black | TUBALL™ nanotubes |
| --- | --- | --- | --- |
| Working dosage, wt.% | 0.2–4.0 | 4–12 | 0.01–0.1 |
| Surface resistivity range, Ω/sq | 108–1011 | 103–1011 | 103–1011 |
| Influence on mechanical performance | small negative | strong negative | none |
| Influence on rheology | none | strong negative | comparable |
| Color opportunity | yes | none | yes |
| Dust formation during production | none | high | none |
| Resistivity independent of humidity | no | yes | yes |
| Stable resistivity over time | no | yes | yes |
Key benefit 1: Compliance with industrial safety regulation
There are number of standards related to regulations for ESD protection in safety wear. Graphene nanotubes can be used to achieve all these requirements.
EN ISO 18080, EN 1149, EN 61340, EN 16350, ANSI/ESD STM2.1, Directive 1994/9/EC and ATEX Directive 95, GOST 19616, GOST 12.4.124 and others;
Depending on the relevant standard, the textile type and the final application, generally the resistance needs to be in the range of 105–1011 Ω;

Applications: oil and gas, chemical facilities, pharmaceutical and medical areas, electronics manufacturing, automotive industry, etc.
Key benefit 2: Colored anti-static compounds
The extremely low dosage required of graphene nanotubes creates the opportunity to produce colorful solutions where desired.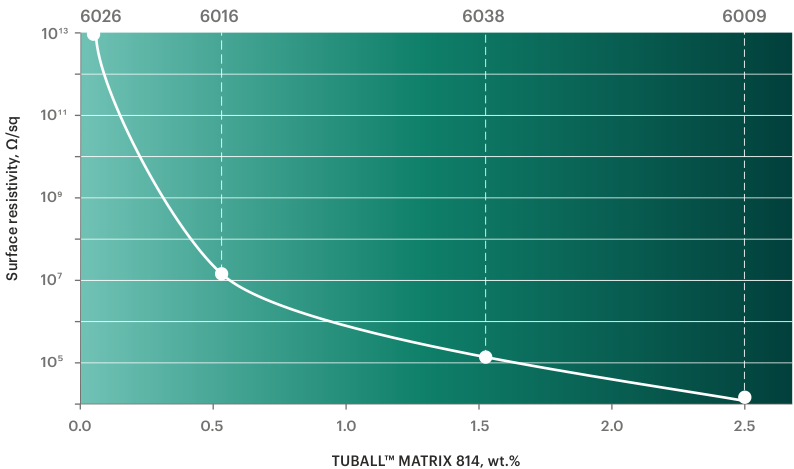 0.25-1.5 wt.% TUBALL™ MATRIX 814 beta for 105-109 Ω/sq with maintained color. OCSiAl internal PVC plastisol formulation. Sample thickness: 2 mm. ASTM D257
Coloured anti-static nitrile film with 0.06 wt.% TUBALL™



Surface resistivity 107 Ω/sq

Key benefit 3: Standard processing and mixing equipment
TUBALL™-based products can be processed with standard equipment widely used by textile manufacturers.
Other benifits
No carbon release on surface
Permanent and stable level of resistivity
No negative influence on mechanical properties
Minimally affects density, viscosity and other rheological properties of formulations
Resistivity is independent of humidity
---
TUBALL™ MATRIX for silicone coatings (LSR, RTV)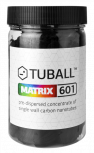 Tuball
Non-crosslinkable conductive additive for liquid silicones
Materials
Silicones, LSR, RTV
Carrier Media
Polydimethylsiloxane
MATRIX 601
---
TUBALL™ LATEX for NBR, NR, PU Latexes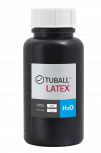 Tuball
Anti-static additive for colored latex systems
Materials
NBR latex, PU Latex
LATEX
---
TUBALL™ MATRIX for solvent free PU systems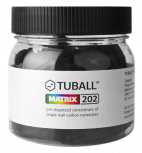 Tuball
Non-phthalate plasticizer based conductive additive for PU, PVC plastisol and phenolic solvent-free systems
Application
Resins & Composites
Materials
Phenolic, Polyurethane
Carrier Media
Plasticizer – fatty carboxylic acid ester derivative
MATRIX 202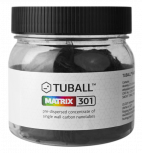 Tuball
Conductive additive for solvent-free epoxy composites, coatings and polyurethane systems
Application
Resins & Composites
Materials
Epoxy, Polyurethane
Carrier Media
Surfactant – ethoxylated alcohol
MATRIX 301
---
---
Please pay close attention to processing guidelines
---
---
Or watch video instruction:
TUBALL™ LATEX - Processing Guidelines
TUBALL™ MATRIX - Processing guidelines
---
Additional resources:
ESD Colored Latex Gloves - New Standard
Electrical resistivity guidelines
---
Contact us to discuss your project specifications or to request a TUBALL™ MATRIX sample