An anti-static agent for conductivity, reinforcement and color
---

Adding conductivity to your material or product has always involved some sort of compromise. For example, you would have to be prepared to sacrifice mechanical properties and durability, or you would get non-uniform, humidity-dependent and non-permanent conductivity, or the end product would have to be colored a shade of black, or the price for avoiding these drawbacks would be so high that the end product would not be economically viable.
---
Comparison of different anti-static agents
| | Standard working loading (wt.%) to obtain109–103 Ω/sq | Uniform conductivity with no "hot spots" | Permanent conductivity | Light color of final product is possible | Mechanical properties retained/improved | Acceptable cost per property |
| --- | --- | --- | --- | --- | --- | --- |
| Graphene nanotubes | 0.01–0.10 | | | | | |
| Carbon black | 5–20 | | | | | |
| Multi wall carbon nanotubes | 0.5–5.0 | | | | | |
| Conductive mica (ATO, etc.) | 5–20 | | | | | |
| Carbon fiber (chopped, milled) | 1-10 | | | | | |
| Liquid anti-static agents (ammonium salts, ionic liquids, etc.) | 0.01–0.10 | | | | | |
---
Graphene nanotubes, also known as single wall carbon nanotubes, add anti-static properties to materials starting from just 0.01 wt.% and provide the best possible combination of properties in comparison with other agents. It is the most effective anti-static and conductive additive that allows you to produce highly competitive products and develop novel materials with a totally new set of properties.
---
Contact us to discuss your project specifications or to request a TUBALL™ MATRIX sample

---
A cost-effective conductive additive with no compromise
Thanks to its unique nature and morphological properties, even ultra-low loadings of graphene nanotubes are enough to produce highly conductive, durable and light-colored polymers, or to solve energy density and cycling problems in lithium-ion batteries.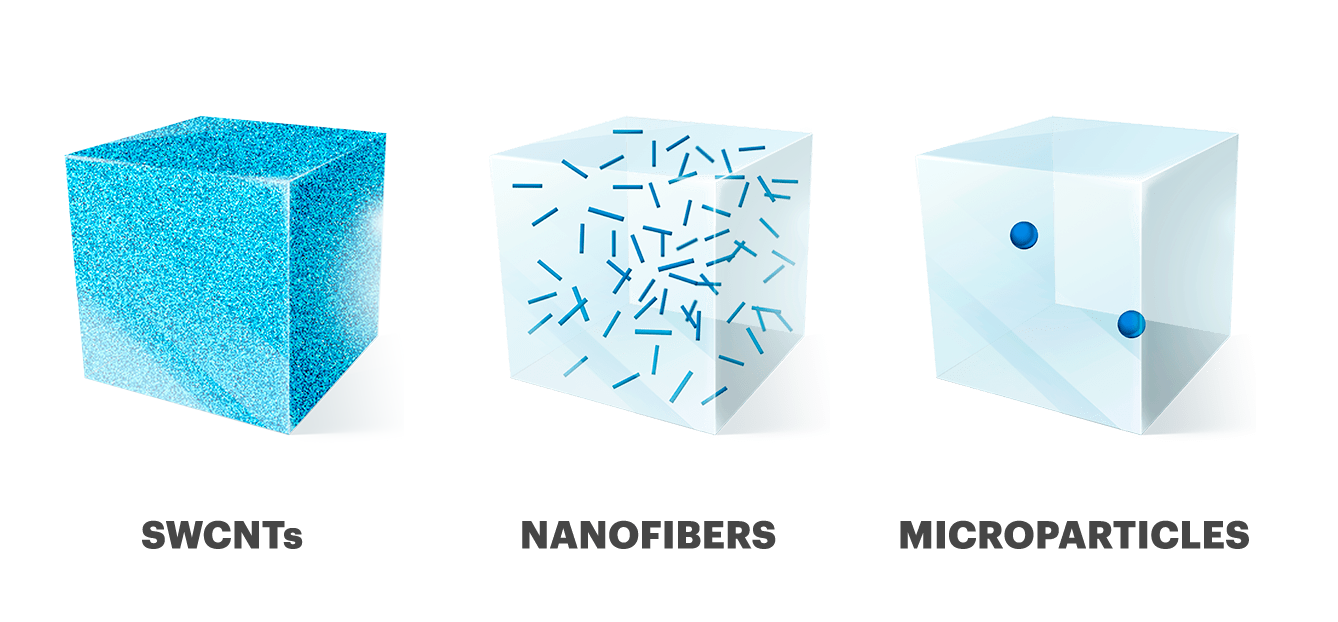 TUBALL graphene nanotubes, produced by OCSiAl, are the only one-layer form of graphene available at a price acceptable to the market and available in the volumes required for industrial-scale production of materials.

---
TUBALL nanotubes' key advantages:
0.01% working dosage

Enable superior electrical conductivity

Uniform and permanent anti-static properties

Retain durability or reinforce the material
The most cost-effective anti-static agent

Open the door for coloring of the final product

---
Contact us to discuss your project specifications or to request a TUBALL™ MATRIX sample

---
Graphene nanotubes for various polymers
TUBALL graphene nanotubes can be applied with standard industrial equipment thanks to their being supplied in the user-friendly form of TUBALL MATRIX concentrates, where the nanotubes are already well dispersed in various polymers. Currently, OCSiAl markets TUBALL MATRIX concentrates for the following formulations:
Many more formulations, including various elastomers, thermosets, and thermoplastics, are under development.
---
TUBALL™ MATRIX - Processing guidelines
---
Graphene nanotubes – a conductive additive for cathodes and anodes
Only TUBALL solves a fundamental problem with silicon anodes and provides unprecedented performance to cathodes in Li-ion batteries. As little as 0.06–0.08% of TUBALL in electrodes is enough for:
| Si/C anodes | Cathodes |
| --- | --- |
| Cycle life increased by 2–4 times | Discharge power more than 50% higher |
| The energy density of 300 Wh/kg and 800 Wh/l | Much higher energy density |
| SiO content increased up to 20% | 2 times higher adhesion |
| Capacity increased up to 600 mAh/g | Improved safety |
---
In which industries can nanotubes be applied?
Over 1600 companies around the world already use TUBALL graphene nanotubes to produce high-performance products with unprecedented conductivity, prolonged durability and vivid colors, and at economically feasible prices.
The number of applications is unlimited, but we will list just a few of them here:

Find out more about TUBALL graphene nanotubes applications
---
Safe for workers and fully compliant with HSE regulations
TUBALL nanotubes have demonstrated good safety performance in a wide range of test carried out by independent research institutes. For instance:
| | |
| --- | --- |
| TUBALL MATRIX in paste form prevents the release of nanoparticles into the air at the workplace, protecting workers from inhaling the nanotubes. | TUBALL nanotubes in nanoaugmented products are bound within a matrix so there is no risk of them being exposed during their utilization by the end-user. |
TUBALL graphene nanotubes are authorized to be marketed in industrial volumes in all key world markets. In fact, OCSiAl is currently the only producer authorized to commercialize up to 100 tonnes of single wall carbon nanotubes annually in Europe.
---
Research and development
OCSiAl has three key R&D and technical support centers, which are located in Luxembourg, China and Russia. We are constantly expanding our product line, and if you need any customized solutions, we can adjust our products for your specific formulation.
---
Contact us to discuss your project specifications or to request a TUBALL™ MATRIX sample