To facilitate application of graphene nanotubes, OCSiAl has developed a series of industry-friendly concentrates, TUBALL™ MATRIX, containing pre-dispersed nanotubes. As a result, introducing nanotubes to the production process does not require the installation of any additional equipment, and allows the use of standard processing.
TUBALL™ MATRIX for rubbers features:
Suitable for anti-static, static dissipative and conductive applications
Extremely low loadings of nanotubes that preserve properties
Retain mechanical properties including softness
Maintain rheology and viscosity
Standard processing and mixing equipment
Enables colored ESD compounds
Ensuring long service life and stable conductive properties to crucial products and processes, nanotube-modified rubbers are widely used in the electronics, automotive and tires, oil & gas and other industries.
OCSiAl has developed a variety of products based on TUBALL™ graphene nanotubes for EPDM, NBR, SBR, blends of NR/BR, FKM and other types of rubbers.
IMPROVEMENT OF TEAR STRENGTH AND TENSILE PARAMETERS EVALUATION IN 3 VISCOSITY TYPES OF EPDM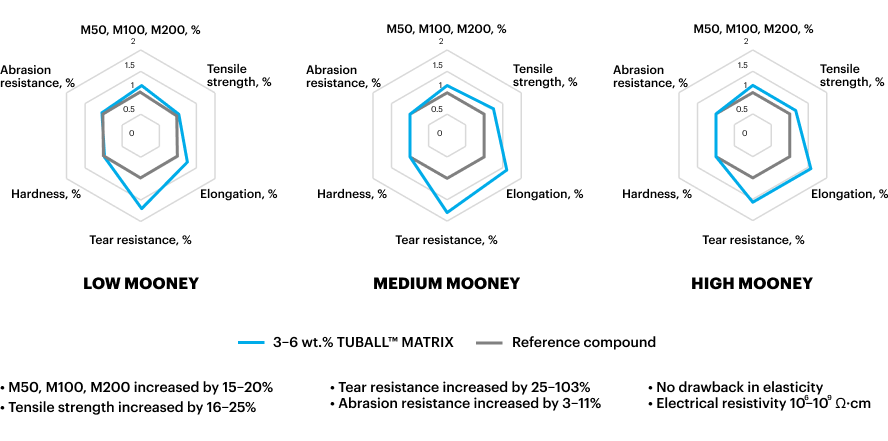 To choose the right product for rubbers, please check the selection guide below and contact us to make an order or for additional information.