High-performance anti-static additive for electrically conductive and reinforced natural rubber (NR) and butadiene rubber (BR)
---
TUBALL™ graphene nanotubes impart the required conductivity and enhance the mechanical properties of blends of butadiene rubber (BR) and natural rubber (NR) based on mineral fillers, while not impacting elasticity or softness, and allowing for colored compounds.
When introduced into rubbers, even at concentrations as low as a tenth of a percent of the total weight of the material, graphene nanotubes (or single wall carbon nanotubes) create a reinforcing conductive network, thus making it possible to achieve a previously unobtainable combination of properties. This sets graphene nanotubes apart from other conductive fillers, such as multi wall carbon nanotubes, carbon black, silver- and nickel-coated graphite and polymer-based additives, which lead to negative trade-offs in flexibility, elasticity or a high price.
Graphene nanotubes in NR/BR blend of rubbers and mineral fillers are the ideal choice for non-marking solid tires. They are used in a number of specific cases, such as when the tire is used in potentially explosive areas that are strictly regulated by the ATEX and other international standards. Moreover, the new electrostatic requirements of the EN 1755 standard now consider ignition risk during "normal" operation, thus obliging many industries, such as chemical, pharmaceutical, food & drink, waste, cosmetics, military, manufacturing, logistics and others, to comply with the requirements of a high surface resistance for the outer material of castors and wheels.
Using graphene nanotubes as an alternative solution to provide the required conductive properties as well as maintain color and basic formulation properties of non-marking solid tires makes it possible to achieve numerous target properties. High mechanical strength and conductivity in compliance with international standards make these tires indispensable in many industries where ESD protection and static dissipative properties are required, including potentially explosive areas: in oil & gas, mining, electronics manufacturing, and other fields.
Test results: mechanical properties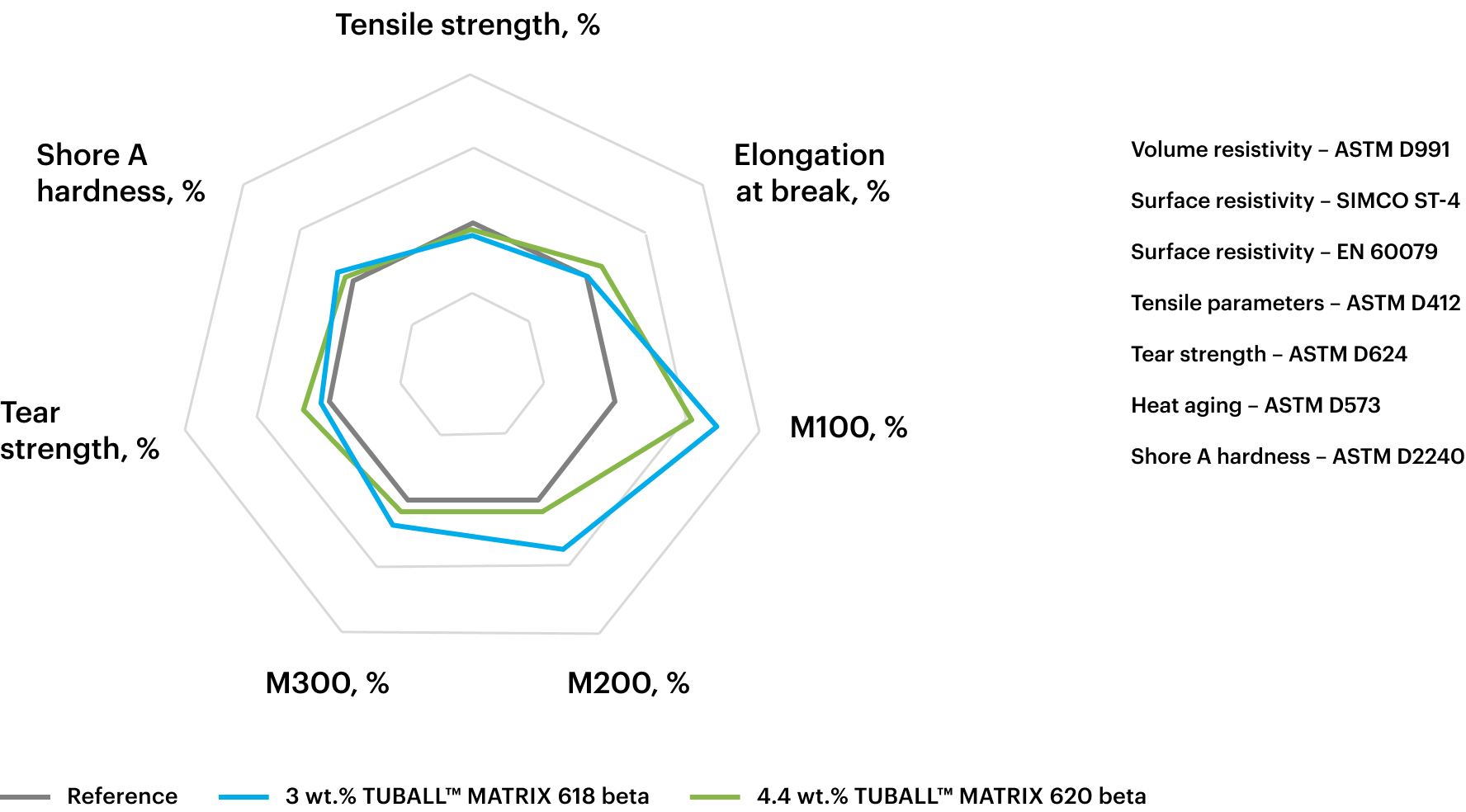 Volume resistivity

Surface resistivity

SIMCO ST-4

EN 60079

3 wt.% TUBALL™ MATRIX 618 beta

3.5 × 102 Ω·cm

5 × 105 Ω/sq

1.6 × 105 Ω

4.4 wt.% TUBALL™ MATRIX 620 beta

4.2 × 102 Ω·cm

5.2 × 105 Ω/sq

9.5 × 104 Ω
To simplify the use of nanotubes, OCSiAl has developed TUBALL™ MATRIX concentrate for non-marking anti-static NR/BR compounds, which is compatible with a wide range of rubber polymer grades. Its application does not require any additional equipment or changes in technological processes.
TUBALL™ MATRIX for anti-static NR/BR rubber features:
Permanent, stable electrical conductivity
Improved or maintained mechanical properties
Retained color, without carbon release to the surface
Maintained elasticity
Standard processing and mixing equipment
To know more about products based on graphene nanotubes that are used in BR, please check the selection guide below and contact us for help in ordering or for additional information.
TUBALL™ MATRIX 600 series for rubbers
Product
MATRIX 603
MATRIX 604 beta
MATRIX 608 beta
MATRIX 610
MATRIX 614 beta
MATRIX 615 beta
MATRIX 618 beta
MATRIX 619 beta

MATRIX 620 beta

MATRIX 621 beta
MATRIX 622 beta
MATRIX 623 beta
Carrier media
Plasticizer
TDAE oil
Dioctyl sebacate fatty acid ester
Fluoro gum
Polymer and paraffinic oil
Polymer
TDAE oil, Hydrocarbon resin, Polymer
Synthetic ester plasticizer
Polymer, Dibutyl Phthalate
Polymer, TDAE OIL
Fluoro gum
Fluoro gum
Polymer, Polar Solvent
NR
SBR
IR
BR
EPDM
NBR, HNBR
FKM
PVC
— Product available — Validation on going
---
Contact us to discuss your project specifications or to request a TUBALL™ MATRIX sample
---