TUBALL™ graphene nanotubes are applied in EPDM rubber as a high-performance additive for anti-static, static dissipative, and conductive applications. TUBALL™ provides rubber compounds with the target volume resistivity level while improving mechanical properties by up to 70% and retaining color.
Graphene nanotubes (or single wall carbon nanotubes, SWCNTs) are very strong, conductive, and flexible material, with a record length-to-diameter ratio. This unique combination of properties allows graphene nanotubes to create reinforcing and conductive network inside rubbers even at extremely low loadings. This ability gives nanotubes an undeniable advantage over the use of other additives, such as carbon black, multi wall carbon nanotubes, and polymer-based anti-static agents, which lead to a number of negative effects on the material's mechanical properties, especially in elasticity and softness.
IMPROVEMENT OF TEAR STRENGTH AND TENSILE PARAMETERS EVALUATION IN 3 VISCOSITY TYPES OF EPDM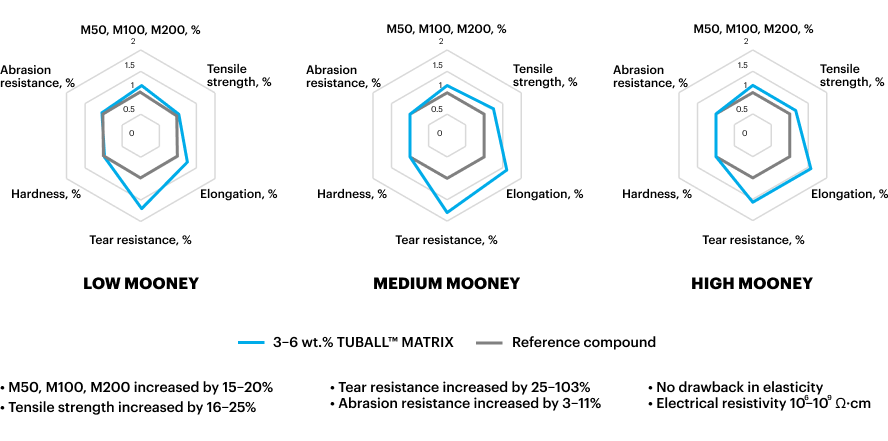 To allow manufacturers to easily apply graphene nanotubes at the final mixing stage, OCSiAl has developed a ready-to-use concentrate, TUBALL™ MATRIX, containing pre-dispersed nanotubes and a blend of polymer and paraffin oil. It is suitable for EPDM and other polymers that are relatively compatible with butadiene copolymers.
TUBALL™ MATRIX features:
For anti-static, static dissipative, and conductive applications
Improved mechanical properties, such as tensile modulus and tear strength increased by up to 70%
Retain colors, no carbon release to surface
A permanent, stable level of electrical conductivity
Carrier compatible with a wide range of Mooney grade formulations and fillers
Maintained rheology, softness, and elastic properties
Standard processing and mixing equipment
Colored anti-static compounds with graphene nanotubes are in high demand in electronics and cables, conveyor manufacturing, and the printing industry, in a wide range of products where stable electrical conductive properties are required in combination with long service life and color options.
To choose the right product for rubbers, please check the selection guide below and contact us to make an order or for additional information.