Anti-static agent for electrically conductive elastomers with retained color, elasticity and durability
---
TUBALL™ graphene nanotubes (also known as single wall carbon nanotubes) are the most effective anti-static agent available, offering a unique combination of stable conductivity and good mechanical performance in elastomers.
Unlike conventional conductive additives such as multi wall carbon nanotubes, carbon fibers and most types of carbon black, which have significant drawbacks in tensile and elastic properties due to a high loading level, graphene nanotubes create a 3D reinforcing conductive network in elastomers to provide stable conductivity without drawbacks, and at the same time allow the production of colored products and maintain or even improve mechanical properties.
---
Discover a whole new world inside silicone
---
An extremely low working dosage of TUBALL™ graphene nanotubes enables a full range of electrical resistivity from <10 to 1010 Ω•cm, allowing the production of both conductive and anti-static elastomers. Being produced in the form of ready-to-use products containing pre-dispersed nanotubes, TUBALL™ dispersion does not require any changes to standard processing and mixing equipment.
Graphene nanotube-based elastomers have applications in many industries, where durable and ESD-protected products are required, including cleanrooms, the oil & gas, automotive, electronics, tires, mining, and chemical industries.
The TUBALL™-based product line for elastomers includes solutions for silicones, latexes and various types of conductive rubbers.
TUBALL™ MATRIX 600 series for rubbers
Product
MATRIX 603
MATRIX 604 beta
MATRIX 608 beta
MATRIX 610
MATRIX 615 beta
MATRIX 618 beta
MATRIX 619 beta

MATRIX 620 beta

MATRIX 621 beta
MATRIX 622 beta
MATRIX 623 beta
Carrier media
Plasticizer

TDAE oil

Dioctyl sebacate fatty acid ester

Fluoro gum

Polymer and paraffinic oil
TDAE oil, Hydrocarbon resin, Polymer
Synthetic ester plasticizer
Polymer, Dibutyl Phthalate
Polymer, TDAE Oil
Fluoro Gum
Fluoro Gum
Polymer, Polar Solvent
NR
SBR
IR
BR
EPDM
NBR, HNBR
FKM
PVC
— Product available — Validation on going
---
TUBALL™ MATRIX 600 series for silicones and TUBALL™ LATEX
— Product available — Validation on going


---
---
Related products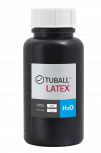 Tuball
Anti-static additive for colored latex systems
Materials
NBR latex, PU Latex
LATEX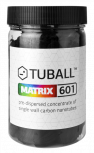 Tuball
Non-crosslinkable conductive additive for liquid silicones
Materials
Silicones, LSR, RTV
Carrier Media
Polydimethylsiloxane
MATRIX 601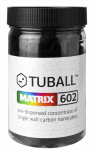 Tuball
Crosslinkable conductive additive for liquid silicones
Materials
Silicones, HCR, LSR, RTV
Carrier Media
Vinyl-terminated polydimethylsiloxane
MATRIX 602
---
Related videos
Graphene nanotubes for elastomers: conductivity & mechanical performance (Kate Gorbunova, OCSiAl)
---
Contact us to discuss your project specifications or to request a sample
---