Electrically conductive rubbers with graphene nanotubes: durability, elasticity, and color, with low hardness and no carbon release
---
TUBALL™ graphene nanotubes, also known as single wall carbon nanotubes, have an effect even at ultra-low dosages starting from just 0.15 wt.% for anti-static, static dissipative and conductive rubber applications.
Examples of applications
---
---
In contrast to other conductive agents, graphene nanotubes are a versatile conductive agent offering good performance in all key parameters.


---
Contact us to discuss your project specifications or to request a TUBALL™ MATRIX sample
---
Сolored anti-static compounds without carbon release to surface
The wide range of color options makes it possible to provide various parts to the market where anti-static properties are required.
EPDM-based rubber with 6 wt.% of TUBALL™ MATRIX 610 and green pigment


---
Improved mechanical properties
TUBALL™ nanotubes, in contrast to traditional conductive agents, minimize the impact on compound elasticity and on tensile parameters, viscosity and rheological properties.
The ultra-low dosage of TUBALL™ makes it possible to use full silica-based formulations and obtain the desired anti-static properties, as well as improved tear strength and tensile performance, without degradation of elastic properties and with the ability to maintain low hardness.

EPDM with graphene nanotubes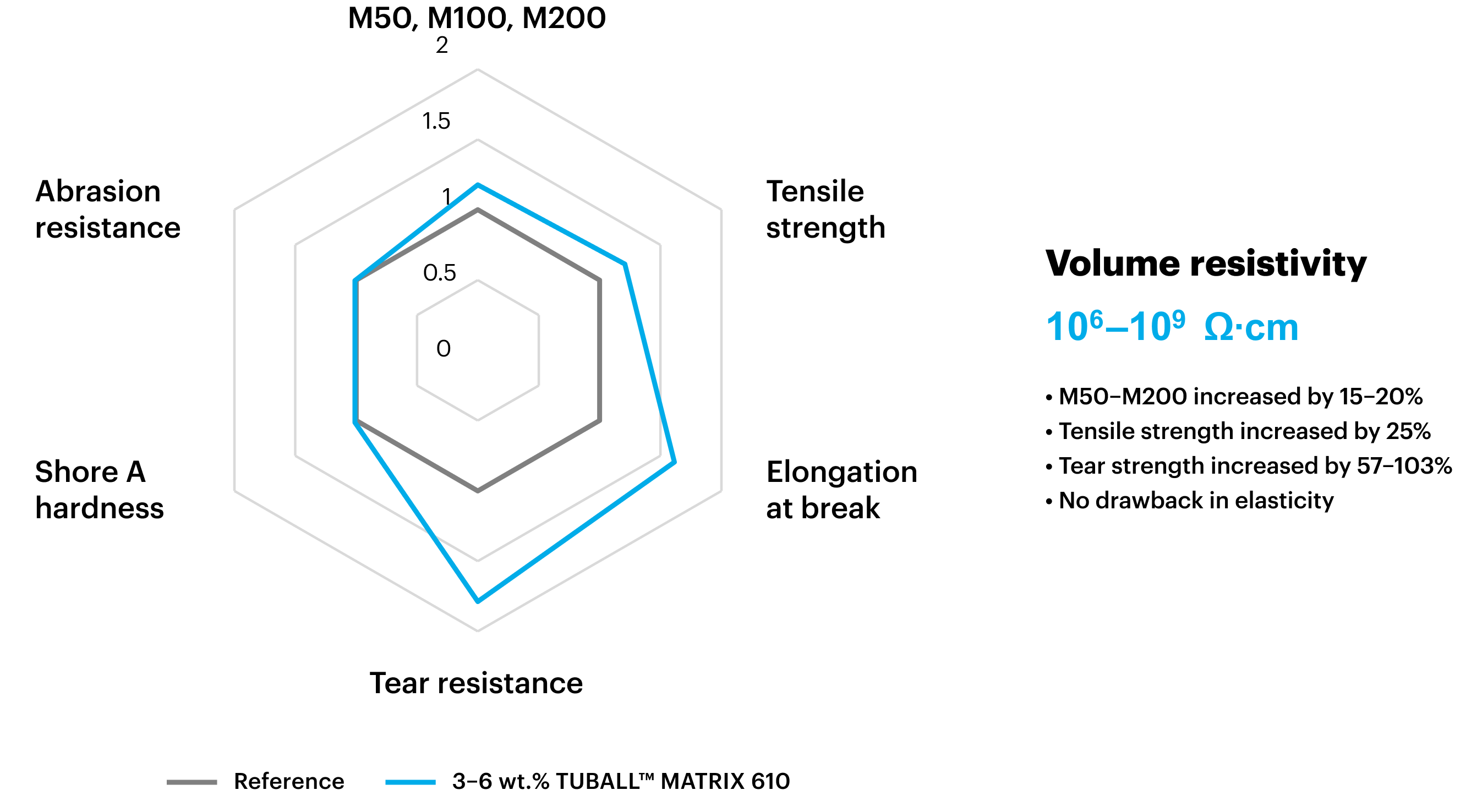 Conductive HCR: TUBALL™ nanotubes vs carbon black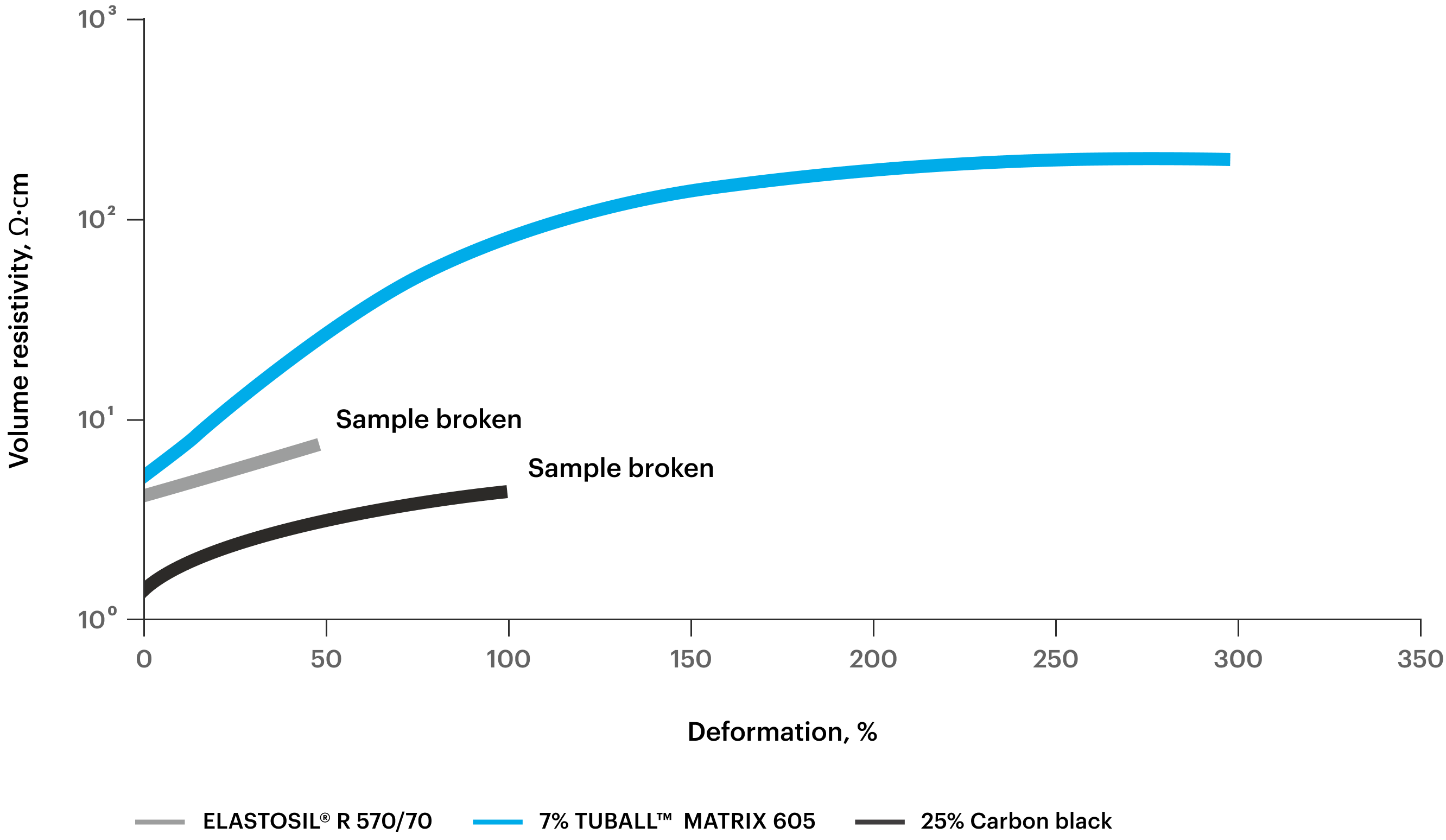 Ready to use nanotube masterbatches are available for various types of rubbers:
---
Contact us to discuss your project specifications or to request a TUBALL™ MATRIX sample
---
Easy-to-apply nanotube concentrates
TUBALL™ graphene nanotubes are applied via the easy-to-use additive TUBALL™ MATRIX, which is a line of concentrates based on polymer and plasticizer carriers and pre-dispersed TUBALL™ graphene nanotubes.
TUBALL™ MATRIX can be added using standard processing and mixing equipment.
Please choose the right product for you to test, or contact us for assistance:
---
— Product available — Validation on going

---
Contact us to discuss your project specifications or to request a TUBALL™ MATRIX sample

---
Video on conductive rubbers with TUBALL nanotubes
---
Ekaterina Gorbunova, OCiAl Vice-President for elastomers, talking about rubbers with TUBALL nanotubes
How to obtain conductive rubbers with graphene nanotubes - Processing guide
---
Conductive rubbers with TUBALL in the media
Additives: Graphene Nanotubes in Fluoroelastomers Benefit Oil & Gas and Automotive Sectors
---
Graphene Nanotubes Enable Creation of Non-Marking Anti-Static Tires
---
Drilling Speed Increased by 20% – Yet Another Upgrade in the Oil & Gas Sector Made Possible by Graphene Nanotubes
---